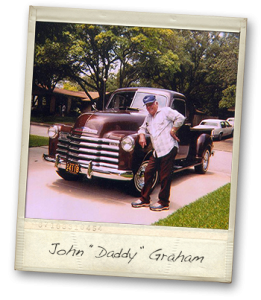 We are family owned.
Great ideas start with a spark of the imagination. Our spark ignited in 1988 when Terie's father, John "Daddy" Graham, encouraged Rick and Terie LaField to found LaField Landscape, a family owned company. John's legacy of strong values and wisdom still lights our path. It can be seen in the eyes of our loyal customers who've stayed with us nearly 30 years. LaField Lighting, also our family-owned enterprise, is an energy efficient, low voltage lighting company whose staff embodies strong values of hard work, integrity and continuous improvement in our field.
We are artisans.
Each landscape is like a painter's palette or a sculptor's medium made up of more than colorful plants, tree canopies and contouring rocks. We call our concept, Landsculpting. Our designs are a physical representation of the organic design principles we embrace and who you are, both day and night. Lightscaping became a vital and natural progression of our offerings as we refined our approach to landscaping. Our strong foundation in landsculpting informs our creativity in lighting your landscape to its maximum beauty.
We are knowledgeable.
Advanced training in horticulture, urban forestry, and wildlife protection enable our team to showcase your enchanting landscape and alluring architecture. We can work with your wildlife ranch management plan to create lighting that is protective of the habitat and sensitive to the breeding and migration habits of the wildlife present on a property.
We are a bright light in our community.
We are deeply committed to making a difference in the lives of our neighbors. Our Honor Tree Project provides a way for families to plant a tree to celebrate a new life, a lost military hero, a cancer patient who is battling, or even a loved one who has gone on before. Our Hope Grows initiative began after "Daddy" Graham lost his long battle with cancer. Nearest to our hearts are the butterfly gardens we design and install for free for our local kids with cancer. Our community page lists more of the ways we invest in our community.
We are about YOU – Please contact us if you are interested in learning more. We are excited to help you on your next low voltage landscape lighting project!
---